A
nother great way to improve your knowledge of English could be as simple as connecting to a social network like Facebook, but using it in English. For instance, you can change your default language from your mother tongue (in this post we're using Spanish as an example) to English to learn new words and expressions that might come up from Facebook's web application.
So, let's see how to set up your account in English:
1.
First of all go to Facebook.com and log in. Once there click on
Cuenta
:

2. Click on Configuración de la cuenta option:




3. Go to the Idioma tab and choose English (US) or English (UK), whatever you prefer, from the combo box: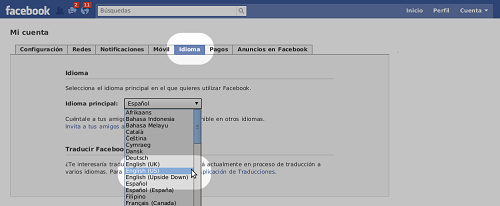 4. After doing this all Facebook's options will be shown in English. Now go to Home to see the changes on your wall:




5. Happy practicing with your English :)



Guest post from Luis M. Gallardo, you can visit his

blog

about Linux, Programming, Videogames and many other topics. Luis also collaborates in the

planeta consolas blog

.
You have read this article General with the title Think in English, Change your Facebook Account to English. You can bookmark this page URL https://apostolosmakrides.blogspot.com/2010/02/think-in-english-change-your-facebook.html. Thanks!