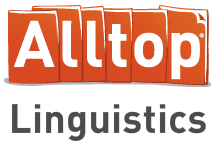 A
re you looking for a place where you can find out about the latest news related to language learning? If that is the case, then the section about
Linguistics
in
Alltop
will be very useful for you.
In
Alltop
you'll find a wide range of articles related in the main to English learning but there are also other languages like Japanese or Polish.
The amount of articles and stories is huge and you'll be able to read the most popular stories as well as explore the hundreds of articles stories that Alltop collects from different blogs and websites.

There are articles as interesting as 7 myths about vocabulary acquisition, How to improve your TOEIC score or Most difficult language to learn.

It's also possible to create your own collection of news and articles that you find interesting by selecting them from a collection of more than 32000 resources. Create your own at MyAlltop.

Explore the best news and articles about language learning
You have read this article Reading with the title Alltop - Top Linguistics News. You can bookmark this page URL https://apostolosmakrides.blogspot.com/2010/05/alltop-top-linguistics-news.html. Thanks!